Icebreaking in Canada
The Canadian Coast Guard icebreaking program makes sure that marine traffic moves safely through or around ice-covered waters.
From December to May, icebreakers and hovercrafts operate along Canada's east coast from Newfoundland to Montréal and in the Great Lakes. From June to November, icebreakers provide services in the Arctic.
Canadian Coast Guard ice operations centres task our fleet of icebreakers and guide the movement of marine traffic through ice. With the support of the program, most Canadian ports are open for business year-round.
Services
Our staff and fleet operate out of multiple regions to deliver vital services in different sectors.
Route assistance
The program provides route assistance services, such as:
freeing vessels beset in ice
maintaining shipping routes
escorting ships through ice-covered waters
organizing convoys (escorts of 2 or more ships) to maximize services in favourable conditions
Ice routing and information services
We provide general routes to shipping and specific routes can be requested.
Harbour breakouts
Our harbour breakout services include:
clearing ice from:

wharf faces of port terminals
facilities in commercial and fishing harbours

breaking out approaches
end-of-season ice clearance
assisting shipping within ports and at marine facilities in emergencies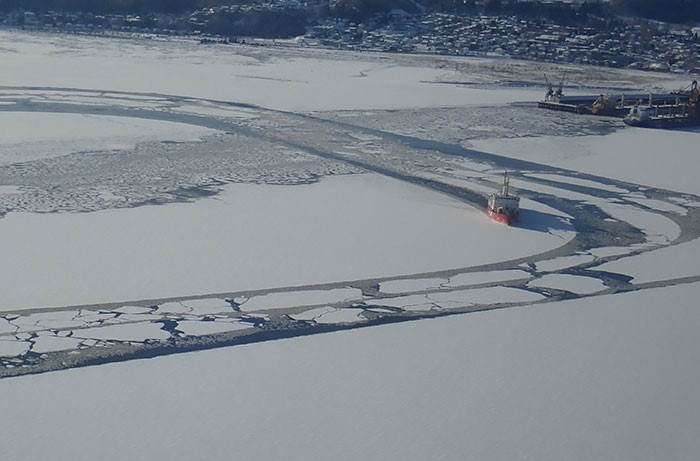 Flood control
The program provides flood control services by:
helping ice flow during spring break-up
breaking out river entrances to allow for ice and water flow
anticipating flood risks by monitoring ice conditions and water levels 
protecting flood-prone areas by preventing ice jams and excessive ice buildup
Northern resupply
We resupply northern settlements and government sites with fuel and dry cargo when commercial carriers aren't available.
Arctic sovereignty
Our icebreakers help to maintain sovereignty in the Canadian Arctic by supporting the Canadian Coast Guard's programs, such as:
Search and Rescue
Environmental Response
Marine Communications and Traffic Services
We also support our mandate by providing the following services:
weather and ice information
resupplying northern communities
breaking out community approaches
recommending ice routes across the Arctic
platforms for scientific and hydrographic programs
escorting ships and organizing convoys through ice
reinforcing services to and reconciliation with Indigenous peoples
Clients
We hold pre-season meetings with clients to discuss their needs and our traffic expectations. These clients include:
fishing vessels
port operators
Arctic residents
the general public
commercial vessels
Environment and Climate Change Canada's Canadian Ice Service forecasts seasonal ice conditions for us and the marine industry. We use this to anticipate any potential areas of concern and plan accordingly.
Our icebreaking program provides high-quality services by following these procedures:
developing and improving public standards for services by consulting with clients
continually improving the delivery of services to meet standards
accounting for performance against our standards
monitoring client satisfaction with services
providing accessible complaint and correction options when service standards aren't being met
Requesting an icebreaker
Contact your nearest MCTS station to make your official request. You must tell us if you need a routine escort or if you're in a distress or emergency situation.
Response time will depend on:
the weather
ice conditions
the priority level of your request
the amount of traffic needing assistance
the number of available icebreakers in the area
the suitability of available icebreakers to your request
When you request icebreaking services, we must determine if your vessel can navigate safely along its intended route. This policy pertains to:
ferries
pleasure crafts
fishing vessels
commercial ships
All requests for icebreaker assistance are assessed against established priorities and service standards.
Gallery
Related links