Global Maritime Distress and Safety System
Information on the Global Maritime Distress and Safety System for Safety of Life at Sea vessels, fishermen and recreational boaters.
On this page
About the system
The international Global Maritime Distress and Safety System (GMDSS) uses improved terrestrial and satellite technology and onboard radio systems. It was implemented globally on February 1, 1999. During an emergency, the system:
alerts vessels in the immediate vicinity
provides improved means of locating survivors
quickly alerts shore-based rescue and communications authorities
GMDSS was developed through the International Maritime Organization and significantly changed the way we conduct maritime safety communications. It's mandatory for all ships subject to the International Convention for the Safety of Life at Sea, including:
cargo ships of 300 gross tonnes or greater
all passenger vessels on international voyages
GMDSS was developed to modernize and enhance our radiocommunications systems. It provides a more effective distress alerting system by using satellite and digital selective calling technology. This improves rescue communications and coordination and increases the:
ability to locate survivors
likelihood that an alert will be received
probability that an alert will be sent when a vessel is in distress
capacity to provide mariners with vital maritime safety information
Equipment
GMDSS uses various types of equipment to transmit and receive accurate distress signals.
Digital Selective Calling
Digital Selective Calling enhances VHF/MF/HF radio by enabling vessels to automatically maintain watch on distress and calling channels. These receivers will only respond to the vessel's unique Maritime Mobile Service Identity number or to an "All Ships" call within range. Once contact is made, follow-up communications take place by voice on another frequency.
Inmarsat
The Inmarsat satellite network provides communications worldwide, except for the polar regions. It allows search and rescue authorities to receive distress alerts quickly and efficiently. Inmarsat terminals are used for distress alerting and communications between ship and shore in areas without VHF or MF digital selective calling shore facilities.
Emergency Position Indicating Radiobeacon
GMDSS makes use of the COSPAS-SARSAT satellite system, which provides global detection of 406 Megahertz Emergency Position Indicating Radiobeacons. These beacons:
are small, portable and buoyant
effectively issue distress alerts anywhere in the world
Class 1 float-free beacons are required on most Canadian commercial vessels 20m or longer, and are highly recommended for all vessels. You must register your beacons in the national beacon database.
Search and Rescue Transponder
Search and Rescue Transponders are portable radar transponders used to help locate survivors of vessels which have sent a distress alert. They are detected by radar and operate in the same frequency range as radars carried onboard most vessels.
These transponders transmit in response to received radar signals and show up on a vessel's radar screen as a series of dots. This accurately indicates the position of the transponder and vessel it's aboard. If a ship must be abandoned, transponders should be taken aboard survival craft.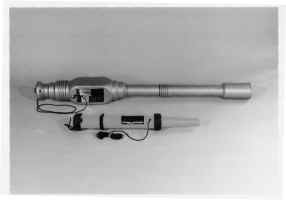 Maritime Safety Information broadcasts
Maritime Safety Information broadcasts include:
distress alerts
search and rescue information
navigational warnings
weather warnings and forecasts
Broadcasts can be received in 3 different ways in GMDSS:
automatic NAVTEX receivers receive broadcasts in coastal regions up to 300 nautical miles offshore
HF Narrow Band Direct Printing receivers can be used as an alternate to EGC if service is available
Inmarsat-C terminals receive Enhanced Group Call: SafetyNET broadcasts for areas outside NAVTEX coverage
International sea areas
Although ship-to-ship alerting is still an important function in GMDSS, it emphasizes 2-way communications between ships and shore facilities. All GMDSS ships must be able to communicate with the shore and transmitting a distress alert in 2 different ways. Therefore a GMDSS ship's equipment is determined by its area of operation and the availability of shore-based communications services.
There are 4 international sea areas in the GMDSS:
sea area A1: within range of shore-based VHF DSC coast station (40 nautical miles)
sea area A2: within range of shore-based MF DSC coast station (40 to 150 nautical miles)
sea area A3: within the coverage of an Inmarsat geostationary satellite (approximately 70°N to 70°S, excluding sea areas A1 and A2)
sea area A4: the remaining areas, covering the polar regions
In Canada, sea area A1 covers the east and west coasts. Sea area A4 covers the Arctic. All other waters are in A3 sea area.
Vessel communication
GMDSS ships maintain an automated listening watch on VHF DSC channel 70 and MF DSC 2187.5 kHz. During the transition to GMDSS, vessels fitted with non-GMDSS radio equipment may have difficulties alerting or contacting a GMDSS ship. We're addressing this by monitoring both GMDSS and traditional distress frequencies during the transition.
Although the final date for the cessation of mandatory watchkeeping on VHF ch 16 by SOLAS ships is under review by the IMO, all vessels should fit VHF DSC as soon as practicable to keep the transition period short.
Response centres
Marine Communications and Traffic Services (MCTS) centres continue to monitor distress and safety channels VHF Ch16 and MF 2182 kHz.
MCTS centres continue to issue safety broadcasts using:
NAVTEX
INMARSAT EGC
VHF broadcast systems
MF and HF radio bands
Canadian Joint Rescue Coordination Centres and Maritime Rescue Sub-Centres receive distress alerts from vessels, MCTS and satellite. When the centre receives a distress alert, it re-issues an "all ships" broadcast in the area. This makes sure that nearby vessels are aware and can respond. Search and rescue mission coordinators task aircraft and vessels at this time. If a distress alert is sent in error, centres should be notified immediately so that these resources can be "stood-down".
Related links