#CCGInTheFamily: The Scotts, Three Generations of Sailors
To celebrate the Canadian Coast Guard's 60th anniversary, we are reflecting on our rich history throughout the years. For many, working on the water—and more specifically at Canadian Coast Guard —runs in the family. Some have parents, grandparents, siblings, or children who worked at the Coast Guard. Others come from a long line of Coast Guard employees, where being #CCGProud is generational. These are their stories.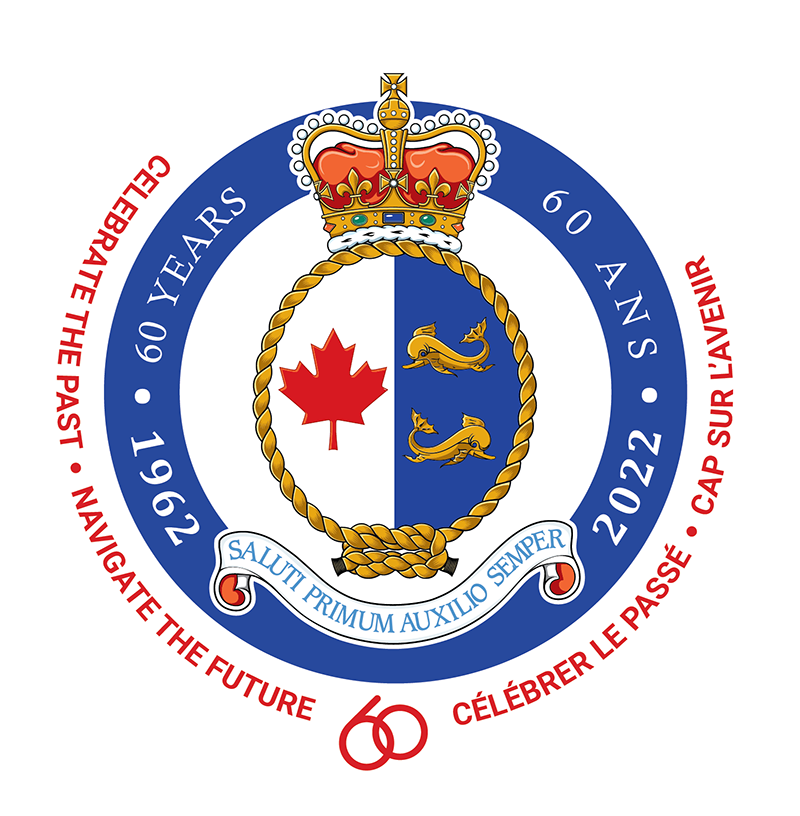 Alyson Scott graduated from the Canadian Coast Guard College (CCGC) Marine Engineering program in 2010. Upon graduation, she joined CCG's Central region and then the Arctic region, where she enjoyed 11 years sailing as an engineer. Recently, Alyson obtained her Second Class Motor Certificate of Competency and is currently in an acting position as a Lifecycle Manager, ITS, in the National Capital Region. Alyson is a third-generation sailor, following in the footsteps of her father and grandfather.
My Grandfather: Donald (Don) Scott
My paternal grandfather, Donald (Don) Scott, while not a member of CCG, was a sailor in his younger days. He joined the Royal Canadian Navy in 1941 at the age of 17 (the minimum enrolment age at the time), and spent 7 years and 9 months sailing in the Pacific and Atlantic Oceans. He was one of the last "boy seamen" enlisted by Canada. My grandfather's first ship was HMCS Dundas andhis final voyage was on the HMCS Ontario. I was later baptized in the bell of HMCS Ontario in a ceremony at Queen's Park in Toronto, along with other grandchildren of WWII veterans who served on the vessel. Following his career with the Royal Canadian Navy, my grandfather, Don, became a school teacher and author in Sudbury, Ontario.
My Father: John Scott
My father, John Scott, started working for Fisheries and Oceans (DFO) in the early 1980s, doing hydrographic surveys in Northern Ontario. A mention of the surveying work that my dad and his coworkers contributed to can be found in the book Chartmakers – A History of Nautical Surveying in Canada by Stanley Fillmore and R.W. Sandilands (pages 100-109, with a picture of my dad, John, at the helm at the top of page 104).
Around 1991, John began his career on the large DFO vessels—mostly the CCGS Limnos and occasionally the CCGS Louis M. Lauzier—working as a Porter, Second Cook, and making his way up to Chief Cook. During this time, the CCGS Limnos was a conventional vessel, so he was away most of the year and home during the winter. He did his best to make it home to Sault Ste. Marie (where we lived) on his weekends off, but considering it's about a 9-hour drive from Burlington to Sault Ste. Marie, I'm sure it wasn't easy.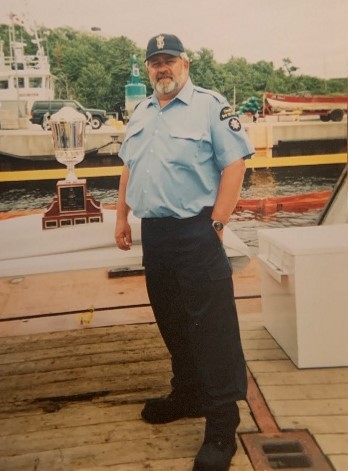 Following CCG's move from Transport Canada to DFO in 1995, John found new opportunities on CCGS Caribou Isle, CCGS Eckaloo, CCGS Samuel Risley, and CCGS Nahidik. Besides his 2 trips to the Arctic, my father worked lay-days on the CCGS Samuel Risley for most of his career that followed, acting as the Seaman, Quartermaster, Winchman, Cook, and Bosun.
John became a Rescue Specialist in 2001. He was also the recipient of the Central and Arctic Region Fleet Leadership Award in 2001. A small ceremony and barbeque were held onboard the CCGS Samuel Risley in Parry Sound, where my mom and I were invited to attend and visit the ship and crew, and to see my father proudly, but bashfully, accept his award.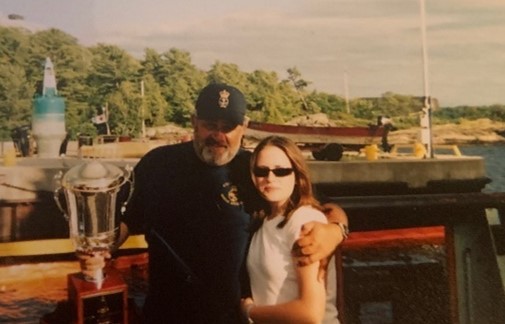 John loved the CCGS Samuel Risley and was so proud of the ship and the people he worked with—he thought of them as family. It was onboard the CCGS Samuel Risley in June 2009 when my father passed away suddenly of natural causes in his cabin. I was a cadet sailing on the CCGS Griffon at the time—unfortunately we never got the chance to sail together. While this was obviously a very difficult time, the support that the Coast Guard showed me and my family was tremendous—from the CCG College staff and classmates, to the region and everyone on the CCGS Samuel Risley and CCGS Griffon, among many others. I'll never forget it. Throughout the years and on multiple occasions, including this one, I have been shown that CCG is really like a family.
Today, I work at CCG as a Life Cycle Manager for ITS. I've had a great career so far and I'm very proud of who I work for and what we do at CCG, just like my father, John, was.