Marine security operational facilities
Learn about the duties and capabilities of Canada's marine security operations centres and our National Command Centre.
Operations centres
Marine security operations centres contribute to Canada's national security by providing an integrated government approach to maritime security.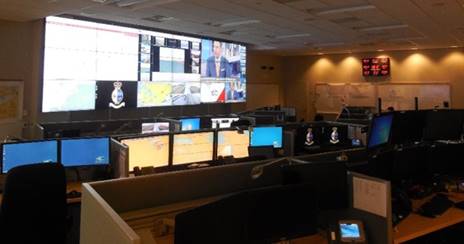 Responsibilities
Centre responsibilities include:
generating and sharing maritime situational awareness that is:

timely
relevant
accurate
coherent

detecting, assessing and responding to maritime security threats that could affect Canada's:

safety
security
economy
environment

providing Canada with comprehensive maritime domain awareness
Canadian Coast Guard personnel support these centres by:
providing vessel identification and tracking information using:

automatic identification systems
long range identification and tracking
information systems on marine navigation

using operational knowledge and expertise in maritime domain awareness to support partners
using the on-water presence of the organization to enhance maritime awareness in Canadian waters
Locations
Canada's marine security operations centres are located in:
Halifax, Nova Scotia
Victoria, British Columbia
Niagara-on-the-Lake, Ontario
Partners
To assist with maritime security programs, the operations centres have 6 core partners, including:
the RCMP
Transport Canada
the Canadian Coast Guard
Fisheries and Oceans Canada
Canada Border Services Agency
Department of National Defence 
The centres also work with international partners such as the United States Coast Guard and United States Customs and Border Protection.
National Command Centre
The Canadian Coast Guard's national strategic command centre compiles current and accurate information on:
marine incidents
current fleet disposition
large scale emergencies
events of interest in the maritime domain
The command centre creates information reports by working directly with internal and external sources, including:
regional departments
Coast Guard programs
other government departments
It then analyses this information and delivers it to internal and external partners as required.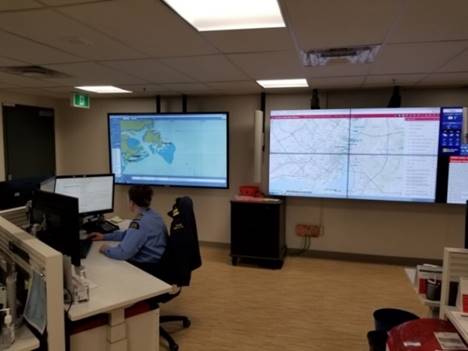 Support for national incident management
The centre supports our National Incident Management Team by providing:
staff
expertise
facilities, including:

an incident management planning room
a boardroom with advanced audio visual teleconference capabilities
an operations room with surge capacity for 2 major incidents and routine operations