#CCGInTheFamily: Patrick Toomey and Family
To celebrate the Canadian Coast Guard's 60th anniversary, we are reflecting on our rich history throughout the years. For many, working on the water—and more specifically at Canadian Coast Guard—runs in the family. Some have parents, grandparents, siblings, or children who worked at the Coast Guard. Others come from a long line of Coast Guard employees, where being #CCGProud is generational. These are their stories.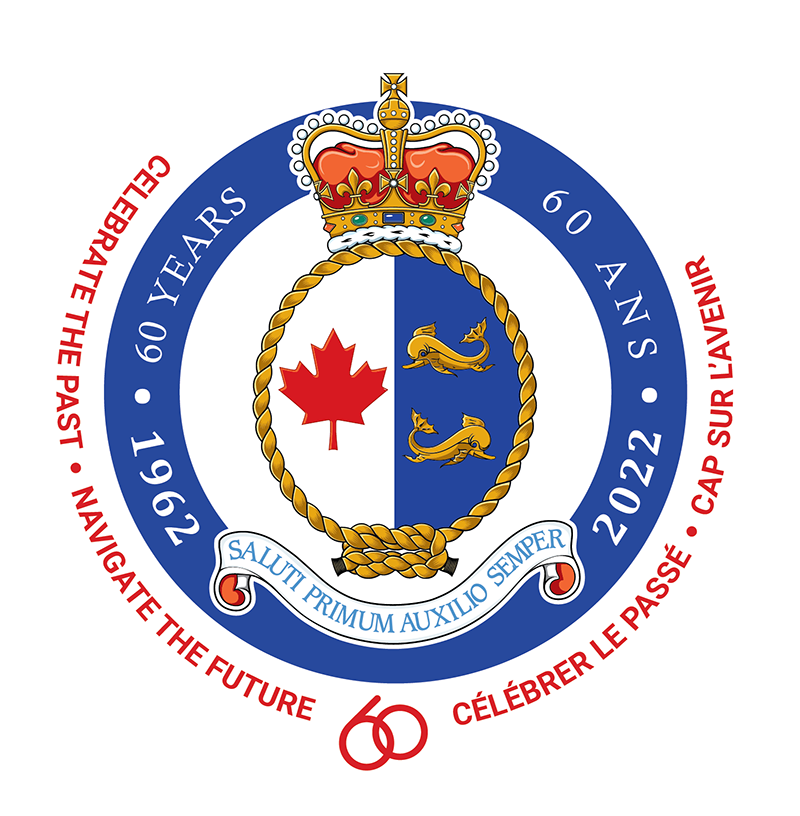 Patrick Toomey started his family's 2 generation commitment to the Canadian Coast Guard (CCG) in 1964 when he emigrated to Canada from England. Following in his footsteps, 2 of his daughters, Diana and Virginia, also worked at CCG, meeting their husbands while at CCG and working alongside them. Here are their stories.
Captain Patrick Toomey
Patrick Toomey began his seafaring career in 1949 as a Deck Officer Cadet in the British Merchant Navy. Having sailed worldwide aboard cargo and cargo-passenger vessels for 15 years, often with icebreaking escorts through the ice-covered Baltic and Canadian waters, Patrick became interested in ice navigation. He emigrated to Canada in the summer of 1964 to begin his career with CCG, hoping to serve aboard icebreakers leading convoys of ships. Patrick joined the CCG in September 1964 as a Relief Deck Officer in Dartmouth, Nova Scotia, and later served on a variety of vessels, eventually rising to become Chief Officer of the CCGS Brant (the last coal-burning vessel in the Canadian Government service). For 2 years, Patrick served as the First Cadet Supervisor at the newly opened Canadian Coast Guard College in Sydney, Nova Scotia. In November 1967, at the end of his College contract, Patrick transferred to the Laurentian Region, Quebec City Base.
While in Quebec, he served as First Officer of CGS C.D. Howe and Chief Officer of CCGS N.B. McLean and in 1969, CCGS Norman McLeod Rogers for its entry into service from the Canadian Vickers Shipyard in Montreal until March 1970. He briefly transferred to Central Region (Prescott Base) for his first command as Relief Captain of CCGS Simcoe for 3 months, returning to Quebec as Captain of CCGS Puffin in May 1970.
Patrick continued his service as Captain or Commanding Officer from 1970 onward, working on several vessels before conducting a solo diplomatic mission to Senegal in April-May 1975 concerning fisheries protection. Patrick conducted another diplomatic mission led by Admiral Anthony Storrs, former Director of CCG Marine Operations, to Iran in June and July 1975.
Patrick served aboard a variety of vessels, including the CCGS Pierre Radisson on its maiden voyage from Vancouver to Quebec via the Northwest Passage.
Between March 1982 and February 1988, Patrick undertook 3 special assignments on behalf of CCG. He travelled to Vaasa, Finland to attend trials for a modified German icebreaker in 1982. Two years later, he went aboard the USCGC Polar Sea as an Arctic Winter Icebreaking Observer with the U.S. Coast Guard. In 1988, Patrick travelled to Russia as a member of the CCG technical delegation for the observation of operational ice trials of a Russian icebreaker "Mudyug" from Arkhangel'sk to the White Sea and Murmansk, Russia.
From October 1987 to the project's abrupt end in February 1991, Patrick served as Senior Nautical Officer for Polar 8 Project (AMNDX-D), a shipbuilding project seeking to manufacture an ice-breaker strong enough to break through 8 feet of ice, which would have given the Coast Guard access to the Northwest Passage year-round.
Before his retirement in June 1991, Patrick served as captain aboard the CCGS Norman McLeod Rogers and the Pierre Radisson. After 27 years of continuous service, Patrick retired in 1991.
Diana Toomey
Diana Toomey was introduced to the Coast Guard early, spending 2 years of her childhood on the Canadian Coast Guard College Campus from 1965–67. She grew up in Quebec, where the family moved after Patrick's placement at the College. After finishing her secondary school education, Diana worked several jobs in catering and later decided to join the CCG at the Quebec City Agency. She started as Assistant Cook aboard the CCGS Pierre Radisson, for its Arctic Voyage of 1981.
In the following years, Diana worked as cook, storeroom clerk, assistant logistics officer and logistics officer aboard a variety of CCG vessels. In 1987, she married Michel Daigle, a temporary seaman aboard the CCGS Pierre Radisson, with whom she made her 3rd trip to the Arctic as their "honeymoon".
In 1989, she took maternity leave and returned to a shore position in the Finance Offices. She later ended her service with the Coast Guard after transferring to the Department of Natural Resources in 2017. Diana worked for the Coast Guard for 31 years, meeting her husband and growing her career along the way.
Michel Daigle (husband of Diana Toomey)
Beginning his work with the Coast Guard as a seaman, Michel Daigle worked on and off for the Coast Guard filling a variety of temporary positions during his approximately 14 years of service.
Michel graduated from L'Institut Maritime in Quebec and landed his first job as a seaman aboard the CCGS Simon Fraser. He worked aboard numerous CCG vessels, including the CCGS Des Groseilliers, CCGS Nicolet, and CCGS Tracy, among many others. He met his wife, Diana Toomey, aboard the CCGS Pierre Radisson and they married in 1987.
Michel also served as a seaman aboard both hovercraft, CCGS Waban-Aki and CCGS Voyageur, and a small Search and Rescue (SAR) vessel based in Quebec. In 1997, while serving aboard the CCGS Martha L. Black, he had the misfortune of suffering a work-related injury, which resulted in a permanent minor disability. Michel decided to end his Canadian Coast Guard availability for temporary employment at that point, after working on CCG vessels for almost 14 years.
Virginia (Gina) Toomey
Virginia Toomey, mostly known as Gina, was born at the Canadian Coast Guard College in Sydney, Nova Scotia in 1966. Gina spent the first year of her life absorbing CCG culture until the Toomey family moved to Quebec City in 1967. She finished her post-secondary education (CEGEP) in Quebec in 1985 and enrolled at the Canadian Coast Guard College as a Cadet in the Navigation Program. During this training period, she spent 2 sea phase periods serving aboard CCGS Alert in 1986 and CCGS Bartlett in 1987. Later in 1987, she discovered her eyesight did not meet the requirements expected of navigation officers, so she left the CCGC in 1987 without graduating.
Gina joined the CCG Telecommunications and Electronics Branch in 1988 to train as a Marine Radio Operator in Cornwall, Ontario. She served as an operator in Cardinal, Ontario from 1989 to 1995 and then in Prescott. Gina left Prescott in 2001 to join her husband, Peter Bartlett, in Halifax. Gina returned to the CCG after taking maternity leave in 2002, serving as a Marine Search and Rescue Support Officer (MSSO) at the Joint Rescue Coordination Centre (JRCC) in Halifax. In 2008, she transferred to Transport Canada as a Marine Transportation Security Inspector at the Marine Security Operations Centre (MSOC East) in Halifax until her retirement in 2021, having served 33 years in several different shore positions with the Canadian Coast Guard.
Peter Bartlett (husband of Virginia Toomey)
In 1982, Peter responded to an ad in his local paper seeking recruits to become Marine Radio Operators. He was selected from a large pool of applicants and graduated from the Transport Canada Training Institute (TCTI) in Cornwall, Ontario in 1983. Peter's first placement as a radio operator was at a marine radio station in Sydney, Nova Scotia, from there he transferred to VCS Halifax in 1988, rising to shift supervisor in 1991.
He remained in that position until 1994, with a brief period at the VCA Charlottetown. From 1995 to 2001, he was moved to a SAR Branch at JRCC Halifax as part of the "GMDSS Implementation Team." His team was tasked with coordinating the Global Maritime Distress and Safety System communications for CCG facilities across Canada.
During his time with SAR, Peter was temporarily assigned to Coast Guard International Relations, travelling twice to Jordan. Following his travels, he returned to his position in Halifax as a shift-supervisor, and in 2006, he moved to the new CCG Maritime Security Branch. There, he became acting manager for a year, before moving across the street to CFB Stadacona to become the first Coast Guard Marine Security Analyst for MSOC East. When he retired in 2017, Peter had worked with the Coast Guard for 35 years.
It's incredible to see how the Canadian Coast Guard has played a big role in this family's history. A true demonstration of how being #CCGProud is generational. Through the Toomey family's story, we see how careers within CCG can vary and evolve through different fields of work.