News and events
Find out what's happening at the Canadian Coast Guard College.
International Day of Women and Girls in Science
February 2020
Officer Cadet Caroline Clairoux is a 4th year officer cadet. She was asked to give her perspective on the importance of International Day of Women and Girls in Science.
"Having more female presence in science, technology, engineering and mathematics (STEM) careers creates more balance in the workplace. There's two points of view rather than one and two approaches. There's always a better outcome when working as a team and combining perspectives."
Caroline was raised by a single mother. Her mother worked as a chemist for Transport Canada in oil-spill response. To this day, she remains Caroline's biggest inspiration. Caroline also has a younger sister and therefore grew up in a house of women. She was always taught that she could become whatever she wanted, regardless of her gender. A male friend of Caroline's once told her that she wasn't capable of understanding politics or government. This lit a fire within Caroline and motivated her to take her Bachelor's degree in Political Science. Having someone tell her 'no' gave her the drive to prove anyone wrong who may have doubted her. 
After graduating with a Political Science degree majoring in Strategic Nuclear Defense for the Middle East and United States, Caroline decided to learn a new language and took summer classes in Argentina learning Spanish. She began to realize that she enjoyed seeking out challenges.
During a vacation on a cruise ship with her family, Caroline didn't understand how a ship could get safely from one location to the next: in fact, it made her fearful of the voyage. While on the cruise, Caroline remembers seeing a female officer. This officer exemplified a strong powerful woman in a male dominated field. After seeing this female officer, all of her fear dissipated. Caroline saw becoming an officer as another challenge for herself. Seeing this woman gave her the courage to pursue a career with the Canadian Coast Guard. She's now on her way to graduating as a navigation officer, a line of work that she never expected herself to be in.
"The old mentally of the 'men's club' isn't totally gone but the newer generations are bringing in new perspectives. They care about what you do, not what your gender is. It's a transition phase. There's no more line of work for men or women, it's just people. Being a man doesn't make you good at everything just like being a woman doesn't make you good at everything. Your skills are determined by what you bring to the table, not your gender."
Caroline's words for young women contemplating entering the STEM field are as follows: "Go for it, you'll find your area of expertise as STEM is such a wide field. Find your inner strength just like I did. Work hard, and you'll achieve things that you didn't know you were capable of."
A special message from Caroline to the person who has had the biggest impact on her: "Without my mom, I would be less of a leader. I wouldn't be who I am today without her. She has set the bar so high and I only hope to reach it."
It's amazing what creative minds can achieve
January 2019
We're thrilled to announce the launch of the Coast Guard College Art Club, formed by officer cadet Tessa Lachance in the Fall of 2018. Tessa began pottery lessons at the Cape Breton Centre for Craft and Design during her first year of studies. After recognizing a need for more creative outlets at the College, she submitted a proposal to management to create an art club. This club would provide officer cadets with the opportunity to express and develop artistic skills on campus.
After just one year, Tessa held an art exhibit with over 75 submissions from 30 officer cadets. Tessa has also been successful in setting up art classes as learning opportunities for club members. She's working on another exhibit where officer cadets can showcase their large scale projects involving:
film
pottery
painting
photography
silk screening
The art club consists of 20 students and continues to grow, as many of our officer cadets have hidden artistic talents. We can't wait to see what they have in store for us next!
Performing in the Sydney Santa Claus Parade
November 2019
The Canadian Coast Guard College band helped to spread the holiday cheer in the Sydney Santa Claus Parade on November 23. Officer cadets marched with members of the community and played holiday music for everyone to enjoy. Hundreds of people got to see our musically talented officer cadets and their excitement to engage with their community.
The officer cadets did a fantastic job representing the college and they can't wait to participate again next year!
When I joined the Coast Guard College band, the founder, officer cadet Joseph Huitema welcomed all skill levels. He even provided instruments for rusty trombonists like myself. Weekly practice and teamwork paid off with a polished sound but marching added an extra challenge of endurance and coordination. What a great feeling it was to accomplish our goal and represent the college at the Sydney Santa Claus Parade! While our band is only a few years old, we're already adding pride and identity to college celebrations. Best of all, it's a fun way to step-up daily divisions for our fellow cadets with live music!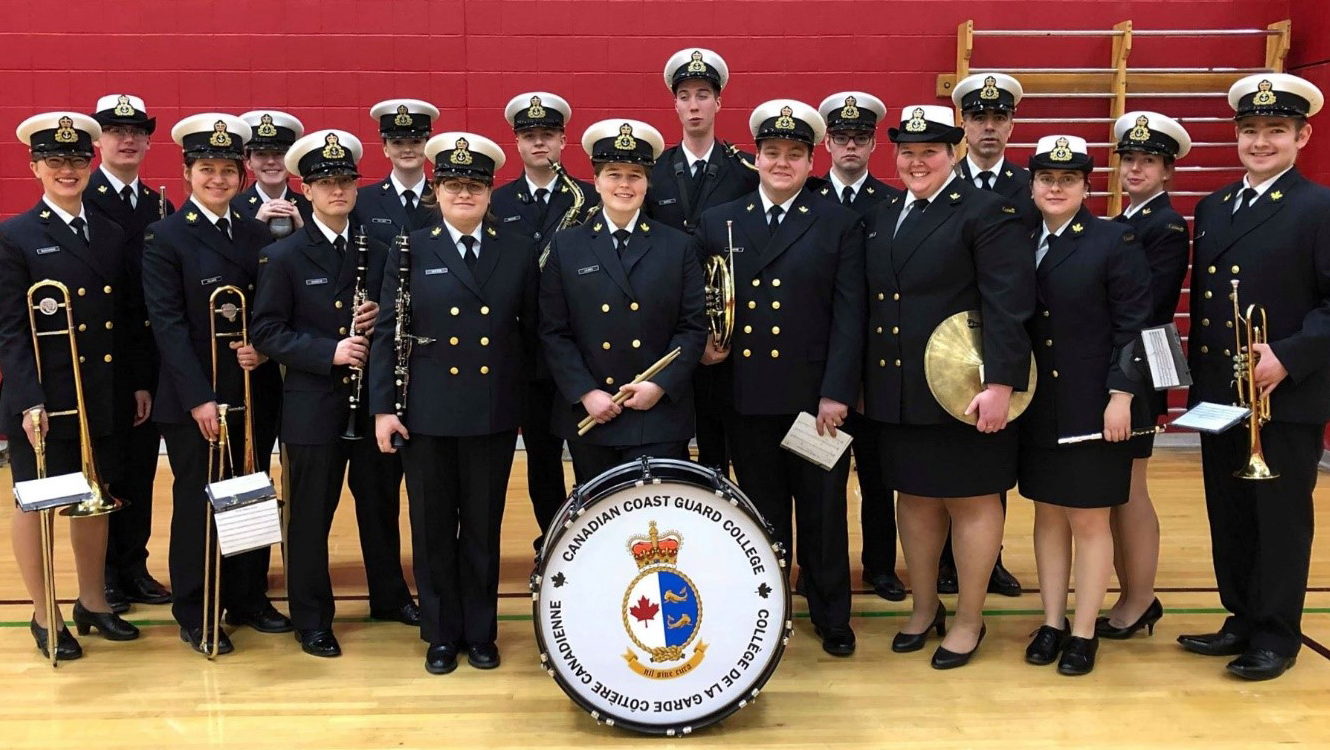 Date modified: